July 3, 2000 Humans Are Viruses | July 5, 2000 House Mates From Hell Part Deux | July 15, 2000 Interesting Sighting in Princeton, NJ | July 24, 2000 What it takes to make a person believe in God | July 24, 2000 Diet Time | July 25, 2000 Painful Shoes and Americanism | July 26, 2000 Agitation | July 27, 2000 Agitation Part II - More grief on those freakin' liberals | Bill Clinton Sign... | July 31, 2000 Disturbing Findings | August 1, 2000 My Current State of Mind | August 3, 2000 Inspiration | August 4, 2000 Infidelity | August 7, 2000 Dieting Melancholy | August 14, 2000 Note to Self | August 19, 2000 Sparks and Slim Shady | Road Runner Slaughtered | September 4, 2000 Labor Day

August 19, 2000 Sparks and Slim Shady

I went to get a hair cute on Saturday, and I swear ... Eminem was my stylist.

I am a loyal Sparks client, and I truly believe that this beauty salon is a jewel hidden in the dirty little ghetto city that is New Brunswick. I always find myself under the hands of a different stylist, and every time, without fail, I leave the establishment with an outstanding haircut. This past Saturday, for the first time ever, I was sweating bullets when a tall, bleached blonde, mock-hard-core man greeted me with a firm hand shake informing me that he will be cutting my hair. I was such the fool in doubting Sparks' superior styling expertise.

Eddie's countenance completely fooled me. During the entire hour or so that he was working with me, I kept on thinking to myself, "It will grow back, it will grow back." His Eminem style, and hard-core mannerisms made every single snip of hair terrifying. Why was it so scary? Because he is everything that my former boyfriend wanted to be, and there is no way in hell I would want OJA to ever cut my hair. Between the toothy grin, nodding that entails an upward tilting of the chin, and the random "Bang! KAAAZAAAM! Now this is what I call a perfect layered cut!" all I could do was smile and laugh politely.

A little bit into the cut, I realized what he saw in my hair, and his vision was really coming to fruition. I relaxed and started having fun with this comical guy. He's really a sweetheart and a good looking one at that … despite his Slim Shady act, which is actually rather becoming of him in retrospect.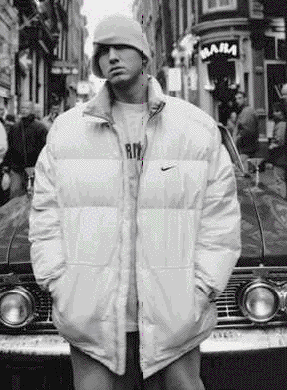 ( Eddie - this is me spreading the word about you and your skills to my friends and other peeps)
Guys - if you are looking for a cool haircut that makes you look good enough to be gay while having people know fully well that you are not
And
Ladies - if you want a hotty to give you a stylin' cut
Then call up Sparks Hair Design and make an appointment with Eddie.