Bunny Bunny Bunny! If you say the word bunny three times at the beginning of every month, then you are suppose to have good luck. This was a word of advice from my high school honors chemistry teacher. Sadly enough, I think that was all that I retained from that class.

If something interesting pops up later, I'll be sure to inform. Otherwise, I'll be trying to study a little for my International Economics exam in between work today.

**************************************************************************************************


Top 10 List For Today


10. Using my new blender for mixing up a Slim Fast shake for breakfast
9. My commuting buddy got on the right train this morning
8. Saying good morning to Jon, and getting a "nornin" back
7. Finding a new message prompt in my takeapeek2002@hotmail.com account. Come on people, write to me!
6. The e-mail was from Doreen and it referred to yesterday's entry with the following comment: So is it safe to say there is an Asian version of me running around the New Brunswick area?? Gotta love her.
5. Finding this on somebody's IM profile as a direct response to a few of my comments that can be read from my review of Sunshine and yesterday's entry:

| | |
| --- | --- |
| | humanity is not damned |
| | |
| --- | --- |
| | to quote another f!cking concentration-camp-profiting, suck-my-f!cking-c!ck-you-b!stards-cuz-you-didnt-have-to-go-through-that-sh!t-movie, |
| | |
| --- | --- |
| | life is beautiful |
4. Seeing this on another individual's IM profile as a response to the above comment:

| | |
| --- | --- |
| | you are damned |
3. The thought of having a bagel with my new cappacino :-) Slim Fast for lunch. The plan is 2 shakes and a dinner, but I'm doing three shakes and a bagel, or some other side order for lunch.
2. Forget it, consider this the top 9 list, getting here was a stretch to begin with ...
And the most noteworthy thing that happened today in my life would be:


Dropping the keys to the ladies' room in the toilet bowl as it was flushing - don't worry, they keys were retrieved.


**************************************************************************************************

On a slightly different note:


| | |
| --- | --- |
| | A panel of officers at the U.S. military court handed down the sentence, the maximum allowable, to Staff Sgt. Frank Ronghi, 36, of Niles, Ohio. Ronghi admitted Friday to charges of murder, forcible sodomy and indecent acts in the death of Merita Shabiu last January. |

This American soldier killed an 11-year-old ethnic Albanian girl during his peacekeeping duty in Kosovo.

**************************************************************************************************

Here's a new thought. Humberto's feelings about journal entries:
It's just intellectual masturbation.

Well, call me an intellectual masturbator.



I received a forward this morning, the orginal message is from the boss of a friend.
| | |
| --- | --- |
| | The average pH of soft drinks, e.g. Coke, Pepsi is pH 3.4. This acidity is strong enough to dissolve teeth and bones! Our human body stops building bones at around the age of 30. After that it'll be dissolving about 8-18% of the bones each year through the urine depending on the acidity of the food intake (acidity does not depend on the taste of the food, but on the ratio of potassium/calcium/ magnesium etc. to phosphorus). All the dissolved calcium compounds accumulate in the arteries, veins, skin tissue, organs. This affects the functioning of the kidney (kidney stones). Soft drinks don't have any nutritional value (in terms of vitamins and minerals). They have higher sugar content, higher acidity and more additives such as preservatives and colorings. Some people like to take cold soft drinks after each meal. Guess what's the impact? Our body has an optimum temperature of 37 degrees for the functioning of digestive enzymes. The temperature of cold soft drinks is much less than 37, sometimes quite close to 0. This will lower the effectiveness of the enzymes and put stress on the digestive system, digesting less food. In Fact the food gets fermented. The fermented food produces bad smelling gases, decays and forms toxins which are absorbed in the intestines, get circulated in the blood and is delivered to the whole body. This spread of toxins can lead to the development of various diseases. Think before you drink Coke or Pepsi or any another soft drink. Have you ever thought what you drink when you drink an aerated drink? You gulp down carbon dioxide, something that nobody in the world would advise you to do. |
| | |
I remember learning about this in Biology, Society, and Biomedical Issues. During that lecture, she also informed us that Nair and other hair removal chemicals have a pH level that is as basic as Draino. So ladies, if you are having a slightly hairy day and you are out of Nair, do not fret - just use some Draino instead.



Strange morning. My alarm went off, and I heard Howard talk about feet and I dreamt that he was showing me how pretty his feet are. Needless to say, I never woke up; my dreams ended up following Howard's commentary on random things.

However, Humberto did call me around 8am today, and he was the one that actually woke me up. So, a shout out to the one that I ragged on for being late a little while ago. Well, then again, I was never late consistently for an entire week ... unlike some people ... but I did show up 45 minutes tardy today wheras Humberto was only 15 minutes behind schedule. Hmm ... I wonder if he would ever make it to work at 9 am on the dot ...

*************************************************************************************************
| | |
| --- | --- |
| | Dear Ann Landers: A while back, you printed some bloopers that appeared in church bulletins. Here are a few more for the list. -- Christie in Indiana |
| | |
| | |
| --- | --- |
| | Dear Christie: Thanks for sending them on. Here is the revised version: |
| | |
| --- | --- |
| | 1. Don't let worry kill you -- let the church help. |
| | |
| --- | --- |
| | 2. Remember in prayer the many who are sick of our church and community. |
| | |
| --- | --- |
| | 3. The rosebud on the altar this morning is to announce the birth of David Alan Smith, the sin of Rev. and Mrs. Julius Smith. |
| | |
| --- | --- |
| | 4. Wednesday, the Ladies' Liturgy Society will meet. Mrs. Jones will sing "Put Me in my Little Bed," accompanied by the pastor. |
| | |
| --- | --- |
| | 5. Thursday, there will be a meeting of the Little Mothers Club. All wishing to become little mothers, please see the minister in his study. |
| | |
| --- | --- |
| | 6. This being Easter Sunday, we ask Mrs. Lewis to come forward and lay an egg on the altar. |
| | |
| --- | --- |
| | 7. A bean supper will be held on Tuesday evening in the church hall. Music will follow. |
| | |
| --- | --- |
| | 8. At the evening service tonight, the sermon topic will be "What is Hell?" Come early, and listen to our choir practice. |
| | |
| --- | --- |
| | 9. The Scouts are saving aluminum cans, bottles and other items to be recycled. Proceeds will be used to cripple children. |
| | |
| --- | --- |
| | 10. The eighth-graders will be performing Shakespeare's "Hamlet" in the church basement on Friday. The congregation is invited to attend this tragedy. |
| | |
| --- | --- |
| | 11. For those who have children and don't know it, we have a new nursery. |
| | |
| --- | --- |
| | 12. Eight new choir robes are urgently needed, due to the addition of several new members and the deterioration of some older ones. |



You know you have been on Slim Fast way too long when your friend tells you that he's hungry and you ask him if he wants something to drink.

I miss solid foods.




Friday - Went to Jamie's party that night and it was a blast. But before going to the party, I went shopping after work and found out many happy things

1. I'm a size 4 in Ann Taylor dresses (thank you Slim Fast). Well, I think the dress was very generously cut, but I don't care.

2. I went up a cup size!! Went to Victoria's Secret and a sales associate measured me because I thought I was an A, but she thought I was a B, and it turned out that she was right and I was wrong. I have never been so happy to be wrong.

Saturday - Saw Coyote Ugly with Stephanie and went to Friday's afterwards. It was an awesome chick flick and we had an equally awesome time at Friday's. Oh, and one day, Steph and I will be Coyotes together. We need to hose people down with water, flip bottles of alcohol in the air, and dance on top of bar tables while spitting fire out of our mouths.

Sunday - Went over to Humberto's house for dinner and met his crazy aunt and former frat boy uncle. They were just a calorie burning couple when you are engrossed in conversation after they had a cocktail. They were hysterical ... but I think Humebrto's mommy was slightly traumatized by the topic of conversation, and Humberto was definitely distraught, but I thought it was incredibly funny. What exactly did they talk about? Well, the sex lives of parental figures.

*********************************************************************************************************************

Teehee, it's only Monday, but Lloyd is here! Highlight of today:

Lloyd, Marc and Doreen at the big cubicle trying to fix the computer and a bad memory chip. They kept on switching between the orginal broken chip and the new one that Micron shipped over, but unfortunately, isn't the proper model.

Doreen: Well, why don't you just try putting the other one in?

Lloyd: What? Do you want to sit here and play musical f!cking chips all day?



**************************************************************************************************

I've been thinking. Why am I so concerned with my physical appearance? Why is my self image almost a complete reflection of my dress size and fat to muscle ratio? Why am I so unable to accept the fact that most people are not supermodels, and I am part of that larger majority? I will never look like this Asian super star.

If anything, I look and act like Alice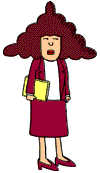 | | |
| --- | --- |
| | Alice is the only female engineer in Dilbert's department. She's habitually overworked. Her cardiovascular system is basically coffee. She has a quick temper when confronted with the idiocy of her co-workers. She does not handle criticism well. |



Well, maybe not so much an engineer, but everything else is pretty much on target.

Ugh, whatever. I have a new goal. When I was 16, I ran 8 miles a day and wore a true size 4/6 dress. Although at the time, I thought I was heavy but now I know I really wasn't. So anyway, this is my goal. By the beginning of spring of 2001, I will be able to run 8 miles a day again. I don't care what dress size I am or how much I weigh - my only goal is to return to my former physical condition.

For now, I will run either early in the morning, or after classes at night. I will run for half an hour 5 days a week, and try a 5 mile run on the weekend. I will continue with this Slim Fast crap, and I will not complain about not being able to chew. Oh, and I'm not allowed to be unhappy and grumpy about the way I appear because that will change soon enough.



Sorry for not putting an update yesterday, but I had to study for my exam ALL DAY. It was nasty.

But this morning was pretty cool. Sunday is Doreen's b-day, but the office people celebrated it yesterday, which I heard was a pretty bad mistake. People were running around engrossed in random meetings, which made true festivities impossible. Anyway, Humberto couldn't give her our present, so we did that this morning. She was happy. We got her a little gift box with pear scented toiletries from Victoria's Secret. She was happy because the green color matches the color scheme in her bathroom.

I can't wait to color scheme my own apartment. I would put more effort into my current residence, but just dealing with the functionality of the deteriorating, fruit fly invested, 6 bedroom apartment is hard enough.

**************************************************************************************************

David Culton is such an inspiration.



This weekend will be productive. I have two final exams next week. Yup, this weekend will definitely be very productive.

************************************************************************************

Leather wrap skirt has a velcro closure. Fully lined. Black (93) or brown (27). Imported. Sizes 2-14. 151/2" length. Merino wool twinset. Ribbed cardigan has a zip front; tube has elasticized top edge.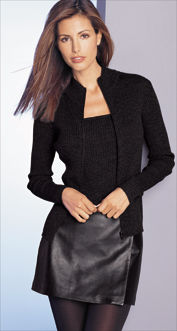 Friday- Got to my apartment around 7ish, and was in the process of packing up laundry and various things so I can head home for dinner. Unfortunately, I fell on my bed around 8, and didn't wake up until 10:30 am Saturday morning.

Saturday- Went to home, ate fabulously (thank you mommy), and bought the Evita soundtrack at Princeton Record Exchange for $10.00 for my mom ... well ... technically ... Humberto got it for mommy because I had left my purse in my car, but he decided to pick me up to run a few errands in Princeton. Anyway, I now know what he feels like whenever I drag him to the mall with me. Best Buy took forever, and I was starving and bored out of my mind. Somehow, every single rack and aisle in that store needed to be perused not once, not twice, but three times. Oh well, he's spent way more hours at Ann Taylor than I ever had spent at Best Buy.

I don't who's more miserable, Humberto at Ann Taylor or me at Best Buy.

In the service of equity, I need to add something to this little rant. There is NOTHING that I can take even a remote interest in at Ann Taylor, whereas there are numerous appliances and electronics that Linda has an interest in at Best Buy. If Ann Taylor had video game consoles I wouldn't dislike it so much either. Finally, Best Buy is much smaller than the entire mall, which we tend to walk around as though its the Indy 500, but we go much, much slower.

Humberto, the mall has World of Science, toy stores, music stores, and computer stores too. Not to mention, if you get hungry, there's a food court that inevitably offers a McDonald's or some other fast food restuarant. Going to the mall does not mean you have to become my tail and follow me in and out of every store that I enjoy. You have the freedom to go where ever you want, but when I go to Best Buy, I'm stuck at Best Buy. And there isn't a food court in the store either. Hmph.

Anyway, after that little joyous excursion and dinner, I went back to NB to spend my evening studying ...

Sunday - Studied some more, ate dinner that Kathleen made ... it was really yummy. She bought corn from a farmer's market in Princeton, and it was some serious corn. Cleaned up the apartment a little ... no more fruit flies! ... and "studied" while chatting on the phone.



Hell has risen and Satan is walking through the armpit of America.

I was listening to Howard this morning on my way to work. Nothing incredibly fascinating, he was just talking about the battle of the bands with his little group called The Losers, and they are going against Star Trek's Toovac's (?) country band. Traffic was gathering up by exit 130 on the Parkway, but it was just a minor fendor bender involving three vehicles in the far right lane. Nothing too bad.

Traffic becomes increasingly congested as every single car comes to a complete stop. A police car and an ambulance go by on the left lane, and something out of the ordinary is foreshadowed.

Howard then introduces a new segment on to his show. A man calls in claiming to be from California and speaks of the preservation of his daughter. The daughter died at the age of 14 after battling several diseases, and she also suffered from Tourette's syndrome. The man decided to embalm her body and keep her in her room at his home.

Traffic continues at a nightmarish crawl, but cars seem to move over by exit 136.

A little bit later into the show, the doctor that performed the embalming calls in, explains that the man is actually from New Jersey and that he is more disturbed than most would believe. In the process of human embalming, there are several options available depending on the results needed from the corpse. In the case of this Jersey-ian, he wanted certain chemicals in the body of his daughter so that she would maintain softness and warmth just like the characteristics of a living human. He specifically requests her vagina and breasts to maintain those qualities.

In addition, the doctors informs the audience that the man has made regular appointments every six months to age his daughter's corpse so that it would seem as though she is progressing through puberty.

As I was listening to this narrative, I slowly passed by a horrible accident that too up the two left lanes on the Parkway. The car was basically crumpled, and the medical unit was working on the body of a large older man from inside his vehicle. It seemed as though they could not remove his unconscious body from the car. I saw a lot of flesh, and various streams of plastic-like medical equipment on the body.

This morning was definitely on the traumatic side.

Oh, and I have an exam tonight.

*********************************************************************************************************************

Theia2002: Necklace from the Garland Collection. Diamonds, platinum. $13,500

Evilution3: A in international econ...priceless



One down, one more to go ... and my summer will begin at 9:45 pm tonight!! Hmm ... I think I might just have to treat myself to a little something after my Stat final : )

Something funny happened last night.

I was studying for my final and I was working relatively hard, and the hours just flew by. I finished my work around 12:30, I packed up my bag, and went to bed. As I laid in bed, I enjoyed this feeling of accomplishment, which is something that I haven't felt since high school.

After that realization, I made a decision. This coming semester, I'm seriously going to work. Really ... I'm not going to procrastinate any more. I'm going back to the way I use to be when I was in high school. I'm going to exercise after my last class (just as I use to when I was on the hockey team and for the same amount of time as practices use to be), and do my assignments and readings right after I shower.

Hmm, I guess I didn't realize how much I missed a structured and productive lifestyle.



The next una-bomber needs to do a huge favor for me - (s)he needs to take care of the New Brunswick Parking Authority.

Jumped in my car, headed to Route 18, and I saw a f!cking ticket on my windshield. I parked in front of my house, and it is only illegal to park on that side between 8am-12pm on Tuesdays. Knowing fully well that today is Thursday, I thought there was some mistake. Nope. No mistake. Alternate side parking tickets are only $17. This ticket is for $37. The offense? Parking within 25 feet of a crosswalk. What the f!cking hell?! I parked in front of my f!cking house!! The house is situated in the corner of the block, and I parked in front of that house. Where the f!ck else am I suppose to f!cking park?!

Stupid wanna be cops that flunked out of Police Academy.

**********************************************************************************************************************

What will Linda do on her first evening off? She's going shopping ... and then getting something yummy afterwards. Maybe a strawberry daquiri.

Does she mean a virgin daquiri? Maybe ...



After work yesterday, I went to Menlo with intentions on purchasing a pair of sunglasses (mommy took the ones I had) and a twin set of some sort. So I went through Macy's and wound up with a winter hat instead of the twin set. The hat is so cute. I'm sure there's a technical name for this hat, but I don't know what it is ... I wish I did though. In any case, the hat is made of black felt on top, and faux fur lines the 2 inch brim, which folds upwards. Times like this makes me wish that I had decided to attend the Mason Gross School freshman year and worked to pursue a Costume Design major.

At the time, my parents were paying for my tuition, and since they wanted me to study economics, I decided to stick with Rutgers College to study econ along with something that I was interested in. But now, since the state and federal government is paying my tuition, I wish I had not listened to my parents and focused on what I really wanted to do.

:( If I had done that, I would know the technical name for my new hat, but I don't ... and that makes me sad. Eh, it's not that bad. I can always take some classes at a textile school after I finishing my BA.

So anyway, I went to dinner at Tumulty's after Macy's ... and I was carded for the first time in that establishment :(

*sigh* And I was hoping to wear my new sunglasses today. Since wearing new things bring a little bit of joy to my very small existence, Zeus decided to bring more clouds and rain into the Jersey area. My apologies to all Jersey-ians and residents of neighboring areas.

Wow, what a depressing way to start the day. Maybe something joyous will happen later.

:) :) :) :) :) :) :) :) :) :) :) :) :) :) :) :) :) :) :) :) :) :) :) :) :) :) :) :) :) :) :) :) :) :) :) :) :) :) :) :) :) :) :) :) :)

I have never ever been so surprised. I got a HUGE bouquet of flowers just now with a little teddy bear in tow. So happy I am. No, happy isn't the word ... elated and beaming.

Haha, so what if Zeus feels like teasing me. Thalia has Aphrodite on her side : p Thank you kind my kind mistress.

**************************************************************************************************

Had Thai for lunch. It was yummy.

It is still grey and rainy. The combination of that and a full stomach .... makes me sleepy.

I spent the majority of this past weekend sleeping.

Friday - Starbucks after work and read Atlas Shrugged. (Steph: you would have so enjoyed. Tall, nicely built man of *color* wearing a black button down shirt untucked, carpenter denim jeans, and black leather Sketcher-like laced shoes. His face ... chiseled.)

Saturday - Ran at Roosevelt Park, went to Jeremy G.'s B-day dinner with two of my other house mates, then went to the mall and spent somewhere around $100. My most exciting purchase would be the Hello Kitty Car Sunshade. It's silver with a baby blue Hello Kitty Angel in the middle. Much joy it brings.

Sunday - Ran twice, ate very little, went food shopping ... and became so hungry that I brought the new jar of honey roasted peanuts with me to the front seat on the way back from the store. Opened the jar, placed the thing in between my legs, and ate I don't know how many peanuts one by one all the way back to the apartment. Before those peanuts, I had consumed 850 calories all day long ... but I'm pretty sure the car ride back from the store jacked up that calorie count well beyond 1,000. Whatever, I ran about an hour total that day.

Hmmm ... do you know what's funny? I'm so in the mood to see the crappy-heterosexual-male-oriented/pre-pubescent-female-oriented movie titled Bring It On.

"I'm sexy, I'm cute and popular to boot!"

There was a time in my life when I was able to eat as much tasteless healthy crap as I wanted, and still lose weight without having to count calories. Now, even the calories in a freakin' grape needs to be tallied so that I would make the total calories consumed per day to be under 1,000.

Oh, I don't count the calories in coffee though. I only drink two cups, and I think caffine makes me burn more calories than it actually has.

**************************************************************************************************

Do you know what amazes me? Ivy League educated Asian students throwing their lives away over jealous love. Sheesh, and I thought I was moderately overweight on the scale of melodrama/jealousy.




*Don't feel stupid if you find the story hard to follow because of the monosyllable Asian names. I had to go back and read a few sentences twice before to get the characters straight.*




The victim's sister, Amy Hong, is a Rutgers student by the way.




I stopped by Menlo after work yesterday to buy a bag of sweat socks. Why? Because I ran out of clean socks and there isn't a working washer in the apartment. I could have gone to a laundromat, but I'm going home on Friday anyway and the amount of money I would have spent at the laundromat is more than the amount I spent on a new bag of socks (Foot Locker was having a sale).

So I go back to the apartment with full intentions to go running around 7:30. I drank my dinner (I am Slim Fasting) at 6, so I thought 7:30 would be the best time to tear up NB roadways. Well, I fell asleep. Woke up around 8, but I thought I was going to miss a phone call, so I ended up reading Atlas Shrugged instead. I'm glad though.



| | |
| --- | --- |
| | She did not censure him. She made it clear that she took it for granted that men had degrading instincts which constituted the secret, ugly part of marriage. She was condescendingly tolerant. She smiled, in amused distaste, at the intensity of what he experienced. "it's the most undignified pastime I know of," she said to him once, "but I never entertained the illusion that men are superior to animals." |
| | |
| | |
| --- | --- |
| | His desire for her died in the first week of their marriage. What remained was only a need which he was unable to destroy. He had never entered a whorehouse; he thought, at times, that the self-loating he would experience there could be no worse than what he felt when he was driven to enter his wife's bedroom. |
| | |
| | |
| --- | --- |
| | He would often find her reading a book. She would put it aside, with a white ribbon to mark the pages. When he lay exhausted, his eyes closed, still breathing in gasps, she would turn on the light, pick up the book and continue her reading. |
| | |
| | |
| --- | --- |
| | He told himself that he deserved the torture, because he had wished never to touch her again and was unable to maintain his decision. He despised himself for that. He despised a need which now held no shred of joy or meaning, which had become the mere need of a woman's body, an anonymous body that belonged to a woman whom he had to forget while he held it. He became convinced that the need was depravity. |
| | |
| | |
| --- | --- |
| | Atlas Shrugged by Ayn Rand page 152-153 |
| | |
Oh, the secret, ugly part of marriage = sex
Ayn Rand rocks. And check this out
| | |
| --- | --- |
| | They meant the night when she heard the Summit Casting of Illonois, the only company willing to make spikes of Rearden Metal, had gone bankrupt, with half the order undelivered. She had flown to Chicago, that night, she had got three lawyers, a judge and a state legislator out of bed, she hasd bribed two of them and threatened the others, she had obtained a paper that was an emergency permit of a legailty no one would ever be able to untangle, she had had the padlocked doors of the Summit Casting plant unlocked and a random, half-dressed crew working at the smelters before the windows had turned gray with daylight. |
| | |
| | |
| --- | --- |
| | Atlas Shrugged by Ayn Rand page 155 |
| | |



Between the spirit and drive of Lady MacBeth and Dagny Taggart (the woman that yanked three lawyers, a judge and a state legislator out of bed via bribary and threats) and the chastity and purity of Lilian Rearden (the woman that thinks sex is "the most undignified pastime," who also " never entertained the illusion that men are superior to animals") lies the essence of everything a woman should aspire to be.




So, here's a conclusion you can make about me ...

Favorite female writer: Ayn Rand

Favourite male writer: The Bard

I admire females that some people would deem as "b!tches,"

and I really, really want to yank three lawyers, a judge and a state legislator out of bed through bribary and threats to attain an invincible permit of some sort to conduct whatever business that I need to conduct.

Clinton awards Harvard professor Galbraith top civilian medal

Warburg Professor of Economics emeritus John Kenneth Galbraith was awarded the Presidential Medal of Freedom at a White House ceremony Wednesday, honoring his lifetime of service to Washington and academia.

But this lines is just soooo ... Harvard-esque.

| | |
| --- | --- |
| | Though Galbraith's time at Harvard has been interrupted by his stints in Washington and India, he still calls Cambridge home, living near the Radcliffe Quadrangle. |
Being an ambassador to India under President Kennedy is an interruption and a stint? *sigh* Gotta love Harvard.



Your luck has been completely changed today.

Lucky numbers 7, 9, 16, 21, 24, 38

That's a pretty ominous fortune. What if I've been having good luck? Does that mean my luck will change from good to bad? What if I've been having bad luck? Will it change from bad to worse? What does this mean?!

Confuscious needs to make a reappearance in the fortune cookie industry.



Yesterday's fortune cookie said: Your luck has been completely changed today.

My parents called last night and told me that they decided to let some random son of a friend stay in my room until his dorm at UPenn opens up.

This morning, I had two tickets on my windshield.

I should have stayed in bed today.



Friday- Should have known better. I saw The Cell with Humberto and I basically spent 90 minutes squirming in his shoulder with his hands covering my ears and my hands covering my eyes. I think I missed basically the entire movie. It really wasn't that scary, but I am a total chicken.

Saturday- Spent the day at Princeton and read a good little chunk from Atlas Shrugged at Starbucks. It was really cool, I was waiting for my frappicino to come up and I left my book on the bar, and this woman just came up to me and told me that after 250 pages, the novel just accelerates. I thought it accelerated from page 1, but I guess it only gets better.

After Starbucks, I went on a 5 mile run that I cut into 4 miles ... and finished in 36 minutes. Not bad too shabby ... although I know it will be a while before I can do the 8 mile daily run that I did when I was 16.

After my run, I went to dinner at Red Lobster. Love the biscuits. Loved the Fiesta Lobster Rolls. Loved the Alfredo Crab Pasta. And I found a secret, if you drink four or more glasses of water before eating, you won't eat as much.

Sunday- Went with Humberto to visit his grandmother and had so much fun with this incredibly cute Chilean woman. She made lunch, and then we went shopping at Lord & Taylor (my first employer). I saw many people from my high school days including Dineen Triggs (she's the general manager who interviewed and hired me), and a few people that I use to work with. I don't remember their names but I remember their faces. I also saw Jay, a former friend of mine who is a year or two younger than me, but I sorta lost touch with him basically the minute I graduated from high school. Needless to say, I couldn't bring myself to say hi to any of them.

Afterwards, we were just going to drop his grandmother off, but his grandfather had came back from his errands, so we ended up having tea and sandwiches :) It was so yummy and I love their quiet, happy existence. They are just such a joy to be around.



Last night, the TV wall mount I purchased from Direct Sales was a nightmare to install. The screws lost it's groove, so now more screws needs to be purchased and the ones that are stuck in the wall needs to get sawwed off because it refuses to come out otherwise.

Speaking of nightmares, I had a "daymare" today. This morning, while I was blow drying my hair, random images from The Cell popped in my head. I thought that the evil man draped in a big huge purple cape was standing in the shower, and was going to ask me, "What are you doing here?!" in that synthesized Satanic voice.

I'm never going to watch another scary movie again.

No more e-mailing resumes, no more searching through the classifies ... cause guess who just received an offer to stay at her current company during the school year? Teehee! That would be me.

Yay! I'm thinking 16 hours a week plus piece work.



I love birthdays. It's like Christmas, but more personalized. Yesterday was Humberto's mom's b-day and today is a co-worker's b-day. And do we plan ahead regarding gifts of any kind? Of course not. So ...

After work yesterday, Humberto and I went to Bridgewater Commons to purchase gifts for his mom and our "Office Mommy". After we splurged at Williams Sonoma for his mom (he bought 5 pasta bowls and a matching hot plate, and I bought four wine glasses that matched the bowls and hot plate), we bought Chicken Poop for the Soul, and a Chicken Noodle for the Soul gift set that included a little mug and a smaller version of the original book for Diane (aka Office mom).

We didn't get to his house until 9 because 206 was a pain in the rump. So we missed dinner, but a little bit of his dad's famous pasta was still left over. It was some serious pasta. Altogether, it was a very pleasant evening.

This morning, Doreen called me to get some help towing all the stuff that she bought for Diane into the office. So we just had a little gift giving session, but Humberto, unfortunately, is late and still isn't in the office yet. Ugh, and I need to go to court today. Poopies.

Humberto rolls me out of the intern room with me sitting on my computer chair, drags me around the corner, and pushes me off so that I glide by the front door of my supervisor's office. I'm laughing hysterically the whole way, and Geoff turns, smiles and just said, "Yes?"

I start feeting my way back to the intern room, and I just said, "Excuse me" in between fits of giggles.

I think I just burned off my salad.

Should you be concerned?
Coffee drinking may damage blood vessels
In the study, 18 middle-aged healthy volunteers consumed 250 mg of caffeine (equivalent to 2 or 3 cups). The results showed that caffeine led to a loss of aortic elasticity, and raised blood pressure. The elasticity of the aorta is linked to heart function and coronary blood flow, the researchers say.

My sister is a b!tchwh!re.
I have a Citibank credit card, and they promote Time Magazine by giving out 29 free issues to the billing address of Citibank card holders.
My credit card bills are sent to my parents' house because that is my permanent address even though I live in New Brunswick. So Time sent the free magazines to their address, and I had no idea that I had a free subscription.
My wonderful sister lived at my parents house for about 3 months this past year. She saw the magazines, and switched the address to her home in California. Every issue after the 29th one, were billed to my credit card automatically, since I did not cancel the subscription because I was unaware that I had a subscription.
I saw a Time fee on my credit card bill.
I called Time to see what had happened. The customer service representative was very confused, but I just figured out why all the addresses were messed up. Everything was straightened out, but tangible evidence now exists ... my sister is an absolute b!tchwh!re.