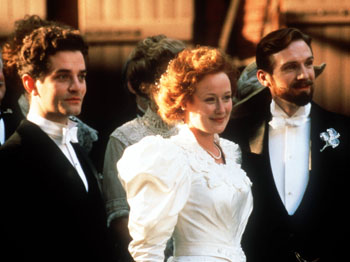 (Gustav, Valerie, and Ignaz, Sonnenschein/Sors)


Plot: The story of four generations of a Jewish family living in Hungary between 1890-1960. The family deals with a steady stream of problems that progressively becomes worse, and ends with the spread of communism and finally, the calm that follows continual demise of government.

The overall moral of the story is dictated through the voice of the grandmother, Valerie Sors. Formerly Valerie Sonnenschein, she changed her name after her cousin/husband, who is a judge, was promoted to a higher court under the stipulation that he changed his name to something that didn't sound quite so Jewish. From pre-World War I through early communism, Valerie has seen it all, survived it all, and passes down the true family secret to the only living heir. She knew to only look at the beautiful things in life, and to remember happy times of freedom, song, merriment, and family because images of beauty, and memory of happy times is the purpose of survival.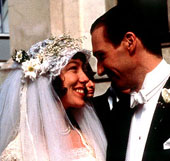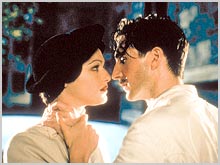 (Married to one, but has an affair with the other, the theme of infidelty courses through each generation of the Sonnenschein family.)


My Opinion
This was a beautiful movie. Even the gruesome concentration camp scenes were delivered in a beautiful way that was not meant to frighten, but to shock and disturb. A particular scene to demonstrate this point would by the torture/killing of Adam Sors. In the middle of winter at Auschwitz, Adam was forced to remove all his clothes, endure a brutal beating, and then tied up to a tree where the sprayed water at him until he became a human popsicle. It was horrific, but grotesquely beautiful.

I also really enjoyed how the director used Ralph Fiennes acting ability. He was used to portray the lead male character of each generation of the Sonnenschein family. It was a very effective means of showing how the family holds on to their old Jewish heritage while trying to assimilate with modernizing, anti-Semitic times.

An Extension
Lately, I have been very pessimistic and cynical towards the human race. In a way, it is shame to say that this beautiful movie has reconfirmed my new beliefs. I do not think that was the intent of the director, because the final scene illustrates freedom, happiness, an understanding of the purpose of this world and being happy with it.

I, however, feel differently. If the purpose to survive is to be charmed by random moments of beauty, being content with memories of happiness, and enduring the pitfalls of life just to be able to live for the next moment that might bring joy, laughter, and song … seems … like a waste of time. People are fully capable of being happy, but their stubbornness, lack of knowledge, and hopeless righteousness propels them to make grand change, and provoke suffering among the masses. A taste of existentialism is apparent in this movie. Everybody is right, nobody is wrong, yet everybody suffers.

Humanity is just damned.