July 3, 2000 Humans Are Viruses | July 5, 2000 House Mates From Hell Part Deux | July 15, 2000 Interesting Sighting in Princeton, NJ | July 24, 2000 What it takes to make a person believe in God | July 24, 2000 Diet Time | July 25, 2000 Painful Shoes and Americanism | July 26, 2000 Agitation | July 27, 2000 Agitation Part II - More grief on those freakin' liberals | Bill Clinton Sign... | July 31, 2000 Disturbing Findings | August 1, 2000 My Current State of Mind | August 3, 2000 Inspiration | August 4, 2000 Infidelity | August 7, 2000 Dieting Melancholy | August 14, 2000 Note to Self | August 19, 2000 Sparks and Slim Shady | Road Runner Slaughtered | September 4, 2000 Labor Day

July 25, 2000 Painful Shoes and Americanism


I took the first exam for Stats for Business last night. It wasn't terribly hard, but it wasn't terribly easy either. I finished a little early, so I figured I had enough time to go to my favorite place on campus, Au Bon Pain, for a french vanilla Cafe Au Lait before class resumed. During the walk over for my caffine fix, I had a realization.




I was wearing a pair of shoes I bought the other day at Steve Madden. It was such a deal, they were orginally $65, but they were on sale for $25. They would be considered "sexy"- somewhere between 3-4 inches high, black microfiber dress sandals with a thin strap across the toes and a thin strap around the ankles. As cute as they are, they are also quite painful. That was when I realized the following:

A direct correlation exists between the amount of pain a pair of shoes inflicts on the woman and the amount of aesthetic appeal the shoes has on a guy. The greater the pain, the more appealing they are to a guy. The harder it is for a woman to walk in a painful contraption, the more a guy would enjoy the contraption.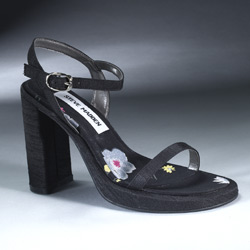 Mine looks something like this.. but minus the flowers


So why did I get them if it can be easily assumed that these shoes would be painful? Honestly, out of the entire foot, I'm only allowed to put my entire body weight on my toes ... and you think that might not be painful? Well, I thought that they were really nice and that they would go well with my wardrobe. So the question is ... what made me think they looked so nice? Why doesn't an equally stream line pair of dress sandals that are completely flat carry the same level of appeal?

I think it is because females are perfectly aware that men are visually stimulated creatures. In order to gain favor by the leaders of this society, females feel the need to make themselves attractive to the male eye. Hmm, perhaps there's an anthropological reason behind as well. Females need to make themselves attractive to the male eye to enable themselves to choose from a larger variety of men to father a child.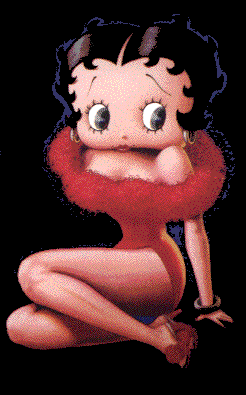 Beety Boop, an image we all know. Men want a woman to resemble her in some way, and women want to cater to a man's desire.


Either way, I almost fell and broke an ankle while I was pondering this thought while enjoying my coffee. Why? Because I stupidly conform to the values of the American society.

If I were ever to rebel against Americanism, you would find me practically bald without make-up while wearing sneakers, jogging pants and a large t-shirt or sweatshirt.

Of course, that would never happen, and I don't really know why I remain stupid and conform instead of opting for comfort. I guess I rather assimulate to Betty Boop than be a slob.

**************************************************************************************************

A sighting of rebellion 2:15 pm ....

A co-worker is now walking around the office without painful shoes on. Although her rebellion is only temporary, it is still a rebellion all the same. It is actually the most efficient form of rebellion. She is still nicely dressed in a navy sheath dress with the coordinating long blazer over it, but she is allowing herself temporary freedom from the oppression of Americanism.

Fine, not really ... but it *could* be seen in that way ....